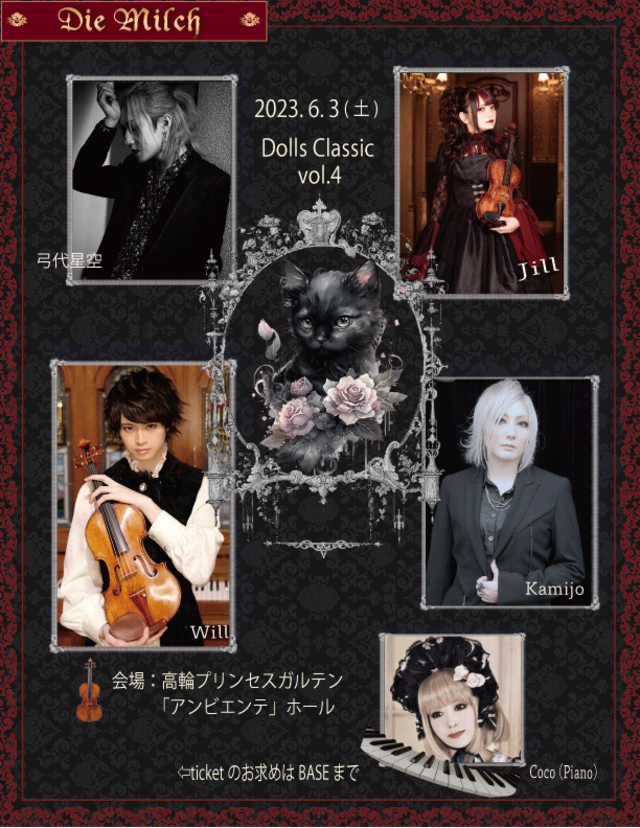 Dolls Classic vol.4 コンサートチケット
SOLD OUT
好評を博したDie Milchメンバー+ゲストで開催するクラシックコンサート。 
"ガチクラシック"の 第三弾。
ポップス、ロック界で活躍するミュージシャンが
本気のクラシックのみで勝負する一夜。
今回はさらに世界観にぴったりな会場 
高輪プリンセスガルテンのホール
「アンビエンテ」にて開催いたします。
2023年6月3日(土)17:20 開場/ 18:00開演(予定)

ドレスコード:自由ですが、下駄サンダル
などはお控え頂いたほうがよいかと思います。
床材の保善上、ピンヒールが禁止されています。
ご了承くださいませ。

♪全席自由 (一部関係者席、車椅子等 優先席を除く)
ご入場は①3月中にご購入された方
②4月中に購入された方 ③5月に購入された方
の順でお願いいたします。

♪チケットはございませんが当日プログラムをお渡しいたします。
※お席確保の関係でキャンセルは前日12時までの対応とさせて頂きます。
なにとぞご理解のほどよろしくお願いいたします。
♡お越しを心よりお待ちしております。

We don't print tickets for this concert.
When you tell the name of the reservation to the front desk when you enter,
you can get a program.
And we will prepare VIP reservations for only 10 persons.
Please check on another page.
Add to Like via app
Shipping method / fee

Payment method
¥6,000 tax included
SOLD OUT